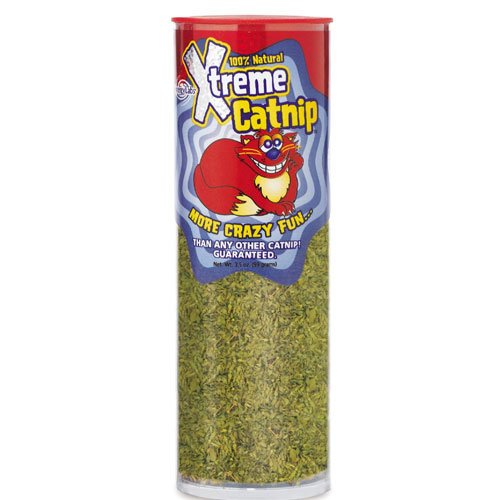 It is a matter of fact that most cats love catnip.  It is genetically determined whether or not you cat will like it.  Your cat not "acquire" an interest in it.  The reason so many cats love it is because it makes them feel wonderful.  Experts say that the feeling a cat gets when consuming or inhaling catnip is a feeling of intense elation.  You may notice your cat purring more than usual, or rolling around happily.  It also stimulates them in the part of their brain that controls a cats activity levels.  Many cats become more playful with their owners after smelling or eating a catnip product.  The best part about catnip is that it is non-addictive and completely harmless to your cat.
There are plenty of toys that are specifically designed to be filled with the leaves of catnip.  One of my cat's favorite toy is the Scratch, Rattle & Roll Cat Scratcher – Mouse.  This mouse is stuffed full of catnip!  The front half is made of soft cloth material, and the back is made of sisal (which is the material scratching posts are generally made out of).  The tail has a rattle in it, and can also be hung from doorknobs.  If your cat loves scratching and catnip, the Scratch, Rattle & Roll Cat Scratcher – Mouse is the perfect toy for your cat!
I also purchased the Extreme Catnip – 3.5 oz, shown to the right, and put it in some of my cat's favorite areas of the house.  If you are trying to encourage your cat to become more playful with you, you can put this catnip on the floor and let your cat eat it.  This catnip is more potent than most other brands of catnip, meaning your cat will love Extreme Catnip – 3.5 oz more than other catnip!
Lastly, there is a variety of catnip sprays.  Four Paws Super Catnip Spray – 5 oz is a great type of spray that is actually made out of catnip leaves.  It is highly concentrated with the aroma of catnip.  It can be sprayed anywhere your cat likes to be, or places where you want your cat to go.  For example, if you want your cat to sleep on your bed, you can spray the Four Paws Super Catnip Spray – 5 oz on your bed and your cat will be instantly drawn onto your bed.
If your cat is not yet 3 months, he or she will not be affected by catnip.  This is not a sign as to whether or not your cat will enjoy catnip in the future!