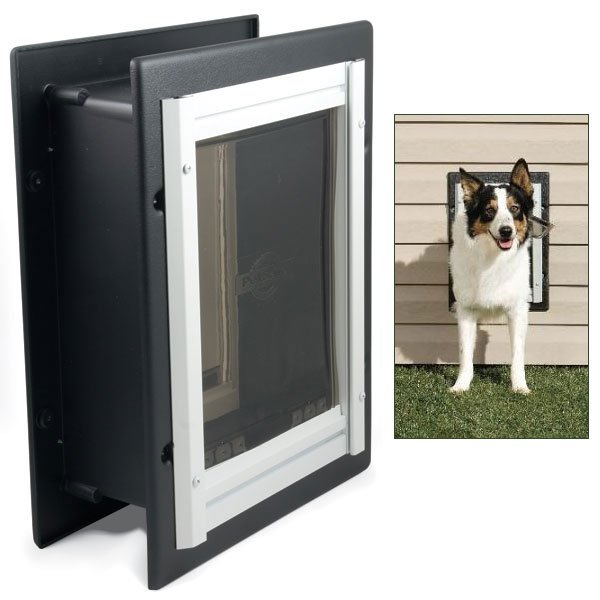 Having a dog door is great for a couple of reasons.  First of all, your dog is free to use the bathroom whenever he or she chooses!  You no longer will have to worry about your pup having accidents in your house, because he will always be able to use the dog door to let himself out.  You will no longer have to crate your dog all day because you are not home!  Installing a dog door ensures your dog can get outdoors and feel happy and healthy.
The only negative aspect to a dog door is that a small animal or a very tiny person can fit through especially large doors.  Most dog doors give you a piece of mind by including a locking feature.  At night, you should lock the door to ensure that unwanted guests do not have access to your home.  My advice is to get the smallest dog door that your dog will fit through.
Most dog doors have a metal or plastic flap covering, which your dog can easily move using his nose or paw.   Training your dog to use a dog door is a very easy task – what dog would not love to have easy access to the outdoors?
A great metal dog door for medium sized dogs is the Medium Wall Entry Aluminum Pet Door (PetSafe), pictured above.  If you have a small dog, you can purchase the Small Wall Entry Aluminum Pet Door (PetSafe).  This dog door is great to use when you do not want to install a dog door in an actual door of your home.  The Medium Wall Entry Aluminum Pet Door (PetSafe) can be installed in a variety of wall materials including all types of siding, stucco, and even brick.  If you want to install this dog door in brick, you will need to purchase extra support materials for safety.
If you are interested in a plastic pet door, you should look into the Premium Plastic Pet Door by PetSafe.  The clear plastic flap on this door has a tight weather seal to prevent bad weather from entering your home.  This high impact durable plastic pet door can be purchased in three sizes: small, medium, or large.  For a chart to see which size would be perfect for your dog, go here: Premium Plastic Pet Door by PetSafe.