Unless you provide your cat with companionship for the majority of the day, chances are that your cat is bored.  If you work all day and o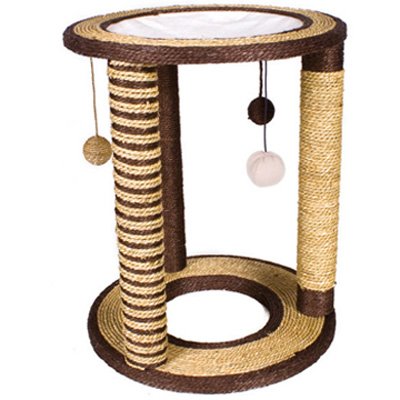 nly have a short time to play with your cat, your cat is also missing out on much needed exercise.  Luckily for you, there are some great tower furniture pieces that cats like to play on, such as cat condos.  They are made to provide your cat with entertainment and exercise.
Getting your cat to consistently exercise has some great benefits.  First, it makes them look better!  Their coat and fur will become shinier and healthier.  Secondly, it will help your cat to live longer.  Plus, it will help fight cat obesity.  Plenty of cats nowadays have become so large that they have trouble exercising in the first place.  You can prevent this from happening by providing your kitty with cat furniture to play on.  The cat furniture does not even have to be intricate, just providing your cat with somewhere to climb is enough for them!
Another benefit to providing your cat a place to play while you are away is that it will kick bo
redom to the curb!  A bored cat can actually develop negative psychological symptoms such as anxiety or depression.  A bored cat may also like to scratch at inappropriate places – like your furniture.  Plenty of cat furniture comes with an area for scratching, which will prevent YOUR furniture from becoming ripped up.  If your cat is known to scratch, try the Kitty Crows Nest Condo – Deluxe, pictured to the right.  The Kitty Crows Nest Condo – Deluxe is 56 inches high, and provides your cat with a tunnel, 2 perches, a hanging ball, and most importantly: 2 sisal scratching posts.
If your cat loves to bat at his favorite toys, then your cat will just love the Playground-N-Lounge for Cats.  It has one perch to sit on, 3 poles t
o scratch at, and numerous areas where you can hang your cat's favorite toys.  The Playground-N-Lounge for Cats is not as big as many cat condos, which means it is easy move to different areas of your house.
If you have a very curious cat, or if you have more than one, I would recommend the Large Kitty Bistro 2 – Cat Furniture.  It is 50 inches high and sports 2 tunnels, 2 perches, a sisal scratching post.  Perhaps the coolest aspect of the Large Kitty Bistro 2 – Cat Furniture is that the top perch has a bowl where you can keep his or her food!  It will be easy to get your cat interested in climbing their new tower if you put their food at the top.  The bowl can be removed and easily washed.