Advanced Oral Care Dental Hearts Treats – 14 ct.
Nutritio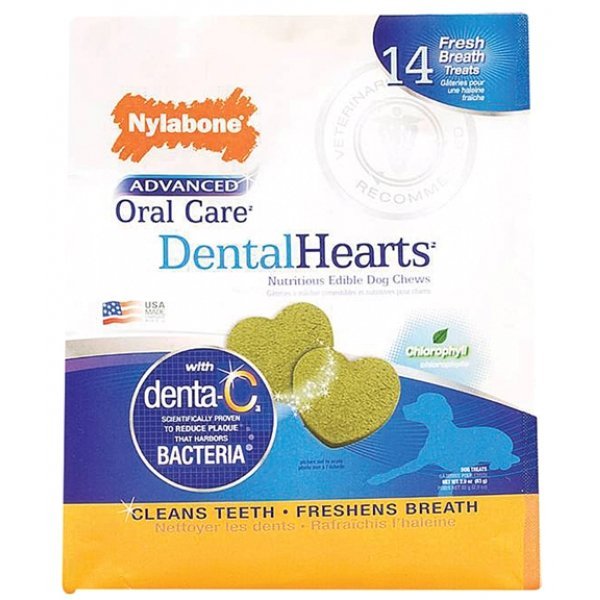 us, edible dog chews with chlorophyll and denta-c, scientifically proven to reduce plaque that harbors bacteria. Specifically designed to help freshen breath. Great for training or multiple treating throughout the day.  These dental hearts are especially great in February because it's dental health care month too!  Double dip on kindness and love by giving your pup these heart treats.
Hearty Chew – Dog Chewing Toy

The Hearty Chew is a durable toy designed to keep your dog's interest, while satisfying its desire to chew. Soft yet strong rope can be chewed, tugged and pulled and will not damage dog's teeth and gums.  Not exactly a heart, but your dog will love you a tad more after getting this hearty chew by Petstages.
Heartbeat Pillow for Puppies or Dogs – 8.25 in.
The Heartbeat Pillow for Puppies or Dogs is part of the Soothing line from Petstages. This unique pillow uses the sound of a heartbeat in order to calm and sooth a nervous puppy or dog. An all time favorite among puppies across the United States – there really is a heartbeat inside this pillow.
Yummy Chummies Salmon Oil – 32 oz.
Enhances palatability of dog food. Helps promote healthy skin, coat and heart. Also helps promote healthy joint maintenance and mobility. Nothing beats Salmon Oil for the heart – and that includes dog hearts, too.
Sweetheart Dog Dish
Distinctive heart shape dish with a pearlized pink finish. Give 'em a heart all year round.  This sweetheart dish comes in multiple sizes – so spread the love to all of your dogs!
Pink Heart Puffy Blanket Coat
This is a warm coat for your dog and still very stylish. A pattern of hearts and dots excites the eye and a comfortable fit tops it all. Not all of us like to dress their dogs up in puffy blanket coats, but those of us that do, you can't beat this heart of all hearts blanket coat.