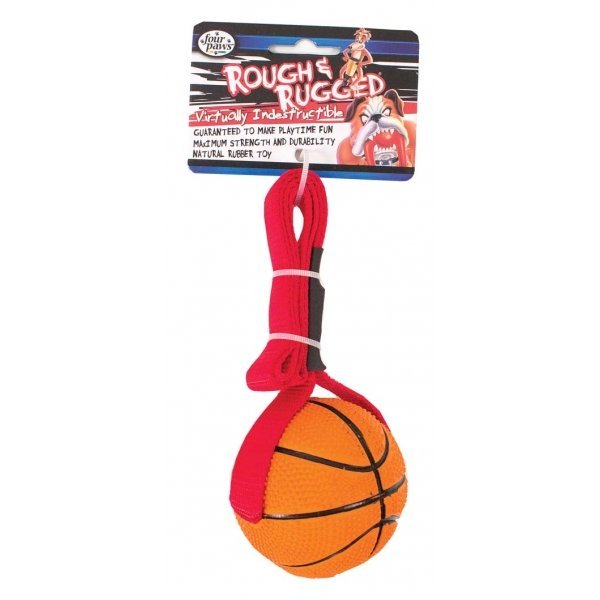 With "Selection Sunday" just three days away – all you "dog-ownin-basketball-buffs" are probably getting pretty excited to see the brackets. You and your dog are in for 67 games of lounging around watching some great basketball – and maybe even winning a few bucks in work-place or family basketball pools.
I am sure your best friend is getting quite excited too, because he KNOWS that you will get him a brand-spankin-new basketball dog toy to busy himself with while you are busying yourself in front of the TV.
Luckily, GregRobert Pet Supplies has numerous new dog basketball toys ready to ship – JUST IN TIME.
Vinyl Basketball Dog Toy 3 in.
Durable and fun vinyl dog toy in the shape of a basketball. Squeaker inside the basketball for added fun. Use this perfect size ball for fetch and interactive play with your puppy or dog.
Plush Basketball Dog Toy 4 inch
Your dog can play defense while you shoot some 3-pointers with this awesome plush basketball dog toy. Perhaps your pup is the next slam-dunk champion, find out and play some hoops with your best friend
Stuffed Latex Basketball Dumbell Dog Toy
This Stuffed Latex Basketball Dumbell by Ethical is longer lasting than regular latex because inside of the bumpy latex shell it has fiber stuffing. Great for hours of playing fetch or for chewing. Available in assorted bright colors.
Rough & Rugged Basketball Dog Tug – 2.75 in.
Made with the highest grade of rubber and filled with unique polymers to give extra bounce. Each ball is 2.75 inches and has a 14 inch long strap for hours of fun.