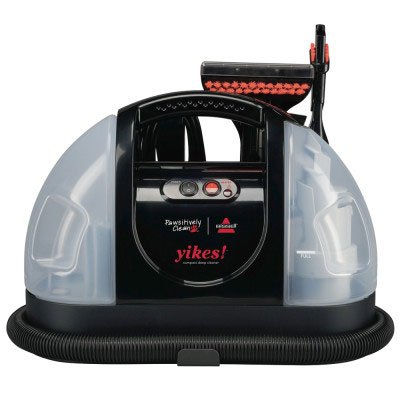 With pets going outside in the nice weather, it is inevitable that they will bring increased dirt and mud back into the house.
Bissell Yikes Deep Cleaner Machine, the Pet Specialty version of the Spot-Bot, will help you keep the house clean.
Heated cleaning continuously heats water for maximum cleaning while the powerful strong spray and suction removes even the grossest stains. The compact design stores easily and is ready to use so when messes happen, clean up is quick and easy. The large 6 inch wide mess tool is ideal for cleaning up kitty litter and kibble while the 4 inch stain brush is perfect for scrubbing deep down stains and messes. For hard to reach stains we've included a 2-in-1 crevice tool with a slim profile to reach tight places.
The Yikes cleaner has a built in heater switch that gives you the ability to raise the water temperature for improved cleaning performance based on your cleaning needs. The heat indicator light illuminates when the heater has reached the correct temperature. Quick release cord wrap and three prong power cord store conveniently in the back of the Yikes Compact Deep Cleaner. Two water tanks keep fresh and dirty water separate for fresh cleaning. We've also included an 8 oz. bottle of Bissell Pawsitively Clean Compact Machine Cleaning Solution.
It is this week's Featured Pet Product.
Don't forget the Yikes Deep Cleaner Compact Machine Formula.