What is the purpose of a window birdfeeder?  Well, they are a perfect way to enjoy birds up close!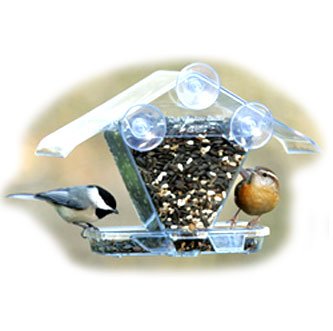 This is great for small children (of course, they need to learn not to bang on the window), the elderly who can't get out to  watch the birds in the yard and of course, anyone in the household that  just wants to enjoy the beauty of the birds from inside the home.  Did you know that window feeders are a great way to keep birds from colliding into the windows. The birds will see the feeder and slow down to land on it.
 Window birdfeeders are  lightweight stick to windows with suction cups that are attached to the feeder. A favorite of  mine is the  Aspects Window Cafe. It is completely clear so you can see the seed level easily and has a  clear roof to that serves to  protect the birds and the seeds from the rain.  There is a clear removable seed reservoir tray for the birds to feast on the seeds.   All Aspects Window Feeders feature patented easily removable seed trays for easy filling and cleaning.  The 3/4 quart capacity means less time between filling the feeder.
The Aspects Window Cafe is made of quality construction. It is constructed entirely of virtually unbreakable UV stabilized polycarbonate. In addition, the manufacturer offers a limited lifetime warranty.
In addition to the Aspects Window Cafe, there are many other window bird feeders to chose.  A window bird feeder is the perfect feeder for anyone who wants to get close to the birds in their yard, while in the comfort of your home.