You have watched your cat groom herself several times a day.  Cats take care of themselves by licking their fur which keeps it clean and and in place. Some cats look great with little care, those are the ones born with good hair. Then, there are others who need a little more help.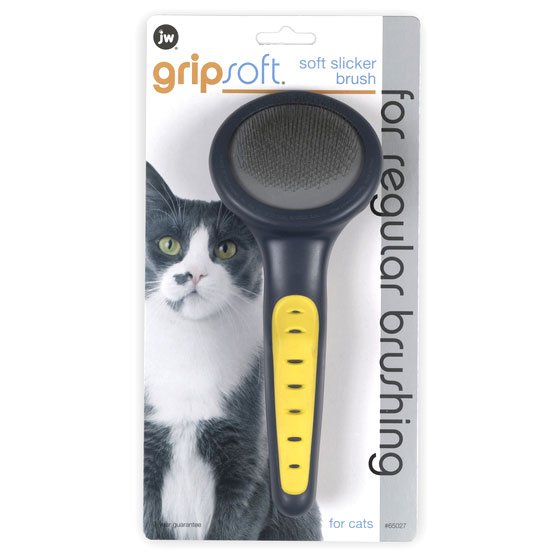 A shorthair cat needs less owner grooming than a longhair cat, but regular grooming is a must for both.  Besides making your cat's appearance look good, grooming helps avoid serious hairballs.  Every time your cat grooms herself, she is swallowing hair that results in those hairballs she coughs up.   Matting of hair is another issue.  The thick tangles of matted hair are painful and can even tear the cat's skin.  The only way to get rid of mats is to shave them off
Every cat owner needs some basic grooming supplies. The most essential basic grooming tool is the metal comb. The Gripsoft Cat Comb is a metal comb with a rubber handle for ease of use.   Next, you need a slicker brush.  A slicker brush is designed to help remove mats, in addition to pulling out dead hair and gently stimulating the skin.  This promotes healthy circulation. The Gripsoff Cat Slicker Brush  works to prevent hairball formation, while dematting your cat's fur. Most cats enjoy the gentle sensation of the metal comb and slicker brush.   If you hit a tangle or mat, cut or shave it off.  Do not try to comb or brush through it.
If your cat has short hair, you only need once a week grooming.
 First, use a metal comb and work through thef ur from head to tail.
 Then use the slicker brush to reomve the dead and loose hair.
If your cat has long hair, you will need to brush every day.
First, use a metal comb to comb the legs. Very gently comb the belly and chest.
Then use the slicker brush  to brush the  fur in an upward motion.
Finally to brush the tail, part the middle and brush the fur out on either side.
With a little time and effort, your cat will be looking and feeling good.