A bored dog or cat is generally also an unhappy or destructive pet, if this is happening to you, is because they are no good, if they are barking at night. This is a sign that you need to something different, that's why we brought you this manual of how to stop my dogs from barking at night. Play is an integral part of pet's lives. Through play, dogs release energy and establish boundaries, while cats get exercise and keep mentally alert.
Depending on their age, size and breed, most dogs require 30 to 60 minutes of exercise per day. Cats, though they may sleep up to 16 hours a day, need physical activity as well, to provide stimulation and reduce anxiety. This activity requirement may be difficult for pet owners who work long hours, or live in an apartment. Designing a playroom with your pet's needs in mind is a great way to keep them from turning to your furnishings for entertainment.
Basic Playroom Requirements
• An easy-to-clean floor, such as vinyl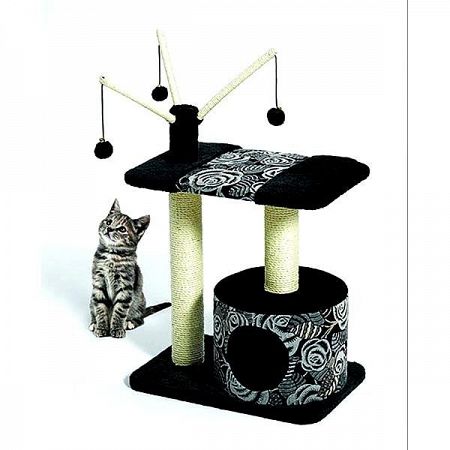 • A secure door or gate
• A play area
• A feeding and watering station (away from the play area)
• Sleeping quarters
• A litter box or piddle-pad corner
For dogs, you can simply lay a sheet of vinyl over your existing floor and add vinyl pads to prevent slipping (take care, some dogs will chew on them). For cats, provide disposable carpeting remnants or doormats for traction and scratching that can easily be replaced if soiled (many carpeting stores sell carpeting remnants; one place to check out is https://nwrugs.com/collections/jaipur).
Whether you have a feline or canine companion, it is important to provide a comfortable interior temperature while you are away. Setting the proper automatic thermostat temperature is key to climate control, while an overhead fan can circulate air. While windows provide ambient lighting, consider installing wooden or woven shades over windows that receive full sun. Make sure the shades are adjusted to keep out of your pet's reach.
Dogs
Dogs should be provided with a variety of toys.  Use toys like a   treat-filled toy  that will keep them engaged, rather than rawhides.  For long-term chewing fun, Nylabones and hard rubber toys are an option. Some dogs will be content with a favorite tennis ball. If they have a bed or crate, it can be placed in a corner.
Cats
Cats generally like to have a high vantage point to look out into a yard or survey their immediate environment. One of the easiest ways to provide a warm, sunny place, as well as darker, sheltered space is by using a cat furniture.
Provide your cat with plenty of batting balls and catnip toys, and a scratching post with dangling toys. For an inexpensive cat cubby, an old cardboard box with a comfy bed inside will be welcomed. If you have multiple cats, make sure to provide enough hiding spaces so your cats can get away when they want personal time.
Does your dog suffer from separation anxiety or noise phobias? CBD has been extensively studied for its effect on stress and anxiety. If your pet is suffering from anxiety, cbd oil for dogs and cats would be a great way to keep him relaxed when he's uncomfortable.
Safety
Before allowing your pet into the room, remove any potential hazards such as:
Electric cords
Electronics
Chemicals
Small or sharp items
Anything that could hurt your pet if chewed
Any furniture or items that could be tipped over