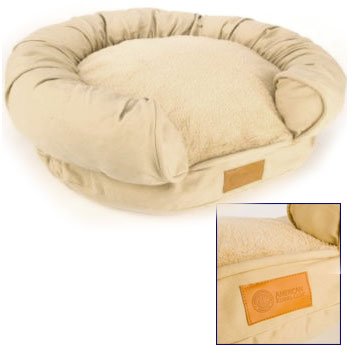 Treat your dog to something special this February by giving your dog a Valentine's Day gift he or she will adore.  Your dog is always your loyal friend and offers your great companionship.  Reciprocate the sentiment by giving your dog his or her favorite treat, a new plush toy or a cozy bed to snuggle in.  Whatever you choose, your dog is sure to be happy and will show you lots of love!
Nothing is more for your dog than to snuggle up in a soft, cozy bed.  One of my new favorite dog beds this year is the AKC Ultra Bolster Dog Bedby Petmate.  This soft, neutral dog bed is perfect for a nice, long nap or just hanging out.  Your dog will love the extra soft cushion and enjoy using it throughout the day and night.  It is made of polyester fiber fill and perfect for sinking into and may be placed in your pet's favorite location to make any spot in your home more comfortable and relaxing.
For times when you can't be with your dog, a plush dog toy can be very comfortable and fun for your dog to snuggle with.  One of my favorite plush dog toys for any canine friend is the Plush Woodland Moose Dog Toy by Ethical.  This toy is made with soft plush that is sure to become the perfect snuggling partner for your dog.   Another great plush dog toy is the Colossal Plush Lion Dog Toy.  This plush dog toy is larger in size and great for hours of snuggling.  It also makes a great cushion for your dog to lay on. 
If your dog would prefer a tasty dog treat over a dog toy or dog bed, then choose a dog treat that your dog is sure to love and give it in moderation.  If your dog enjoys bacon flavor treats, the Nylabone Healthy Edibles Bacon Chews make a healthy and tasty treat for your dog to snack on.  Pick a treat that your dog is sure to love and your dog will greatly appreciate it!