Dogs require special care in the winter months.  Dogs should not be left outdoors for any length of time when temperatures fall below 40 degrees.  Dogs should not be left in a vehicle during the cold winter months.  A car in the winter is like a refrigerator, holding in the cold and possibly causing the dog to freeze to death.  Generally, you should keep pets indoors at all time,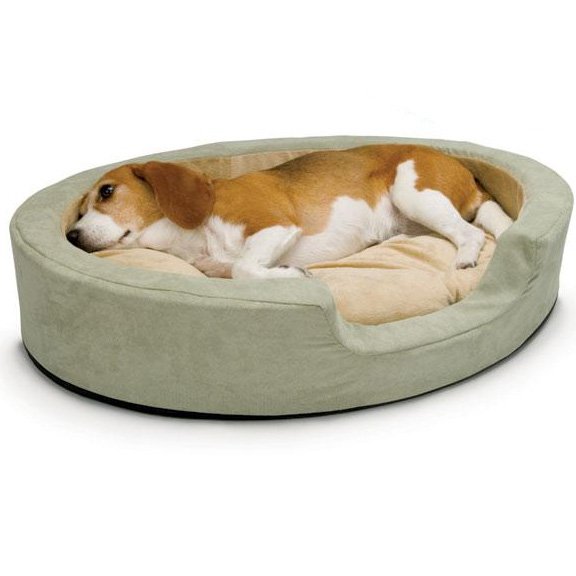 only letting them outside for bathroom breaks and short walks.
Why not treat your pet and get her a heated bed for these cold winter months?  With the increased risk for hypothermia and frostbite, it is more important than ever to provide your pet with a comfy warm bed during the winter months.
A great bed for dogs is the Thermo Snuggly Pet Sleeper,  pictured at the right.  This bed comes in two great colors, sage/cream or mocha/cream, and is available in medium or large size,  so you can chose the perfect bed for your special pet!  It is energy efficient as it only heats up when your dog is in the bed by sensing her body weight.  The bed is is also easily washable –  you can easily unzip the cover and throw it into the washing machine on the delicate cycle.
Not only are there heated beds for dogs, but there are many designed specifically for cats, such as the Thermo Kitty Cuddle Up.  Indoor/outdoor cats will especially love to come home to a comfy heated bed.  Even the indoor cats who do not dare set foot outside in the winter months will still benefit from a heated bed.
Be sure to pamper your pets this winter with a heated bed!