Skid Stop Bowls are designed to stop your pet from scooting, sliding, and chasing his bowl across the floor – thereby limiting spills.
The base of each skid-stop bowl is usually manufactured with a thermoplastic rubber rim to help keep it in its place.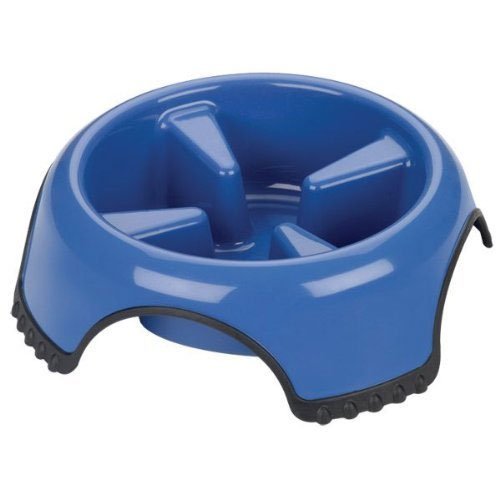 There are a number of No-skid bowls on the market.
JW Pet
 offers a number of skidless pet bowls, the most recent is the "
Slow-Eat Skid Stop Bowl
" which serves a dual purpose and helps eliminate the possibility that your dog (or cat) will scarf down his or her meal before you even stop pouring!  It's pictured to the right and you can see that the design makes it a tad bit more difficult for a pet to get the food out, thereby limiting the speed of eating.
Finally, we like 
JWPet's standard Skid-Stop Pet Bowl 
the best. Heavyweight with traditional styling, it is super easy to clean and is stain resistant, as well as coming in four sizes.
As one of our customer's so eloquently said it:  "once you purchase a skid-stop for your pet, you will never buy a normal bowl again".